Mosquito Control Services In Charlotte, NC
Mosquito Bites – Vectors Of Disease
Do you dread spending time outside because of bugs that bite and buzz all around you? Crown Pest Control offers mosquito control in the Charlotte, North Carolina area so you can enjoy the great outdoors again.
Mosquitoes are biting flies that are also known as gnats. They're an annoying nuisance, especially in the summer months. However, it's not just the stings that people dread. Mosquitoes are known to transmit horrific diseases, including malaria, dengue fever, encephalitis, yellow fever, and other diseases. According to the CDC illnesses from mosquito, tick and fleas are on the rise. The Vital Signs report of May 2018 stated that infection from these pests has tripled in 13 years.
Is that a risk you're willing to take? Call 704-843-7465 today to learn more about our mosquito control services in the Charlotte, NC area.
Assess Your Risk And Protect Yourself
Are you more prone to getting bit than others? Studies prove certain people are more likely targets. The smartest move is what nobody wants to hear as the days warm up: wear long-sleeved clothes! If you can't see yourself doing that, it's a smart idea to spray yourself with an approved repellant containing at least 20% DEET, picaridin, or for an organic alternative, try something made with the oil of lemon eucalyptus. Be smart about your yard and around your home. Eliminate any harborage areas such as old leave piles under bushes in the landscaping and around the home or under the deck. Inspect for any areas where water can puddle up and stay stagnant-whether it be a small hole in the yard, a depression in your grill cover, the interior of an old tire, flower pots, what-have-you. Get rid of what you can, fill in any holes, tidy up around outside, and monitor and dump out weekly anything you can't stop from puddling up. Mosquitoes only need less than a half-inch of water to successfully breed, so vigilance is required.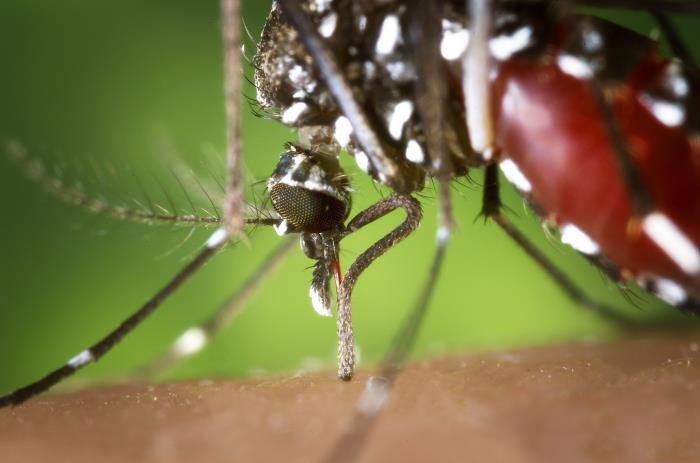 Mosquito Control and Prevention
We perform mosquito treatments for yards at Crown Pest Control. Our technicians are trained to find the potential breeding sources and harborage areas on your property. We have the equipment to deliver the mosquito-killing material around your home and yard, under decks, under shrubs, and any other shady areas where they will hang out during mid-day. We also have a product that is 100% environmentally safe that we sprinkle in standing water, which disrupts the larval cycle of the pre-adult mosquito, thus eliminating future generations in their incubation stages.
Speaking of the environment, we understand the concern over pesticide application. That is why we make it a priority to offer both standard mosquito service as well as alternative botanical pesticide services. This is the same excellent service that hits all those same spots, but we use certified environmentally safe botanical materials. Our mosquito battle plan has us arriving monthly thru spring and summer to keep you and your family safe. This is the time of year to prepare as the warmer weather arrives. Give us a call here at Crown Pest Control, and you can check off the "mosquitoes eliminated" box on your list, so one less thing to worry over.

Crown Pest: Leading Mosquito Control Services
We offer environmental, human, and pet-friendly treatment options. Our comprehensive mosquito control services will:
Break the mosquito life cycle
Prevent further breeding
Keep mosquitos out of your life throughout the season
Our exterminator will meet with you to discuss options for the mosquito service that is most effective in keeping mosquito populations down around your home or office.
Services Areas
Crown Pest Control is a reputable pest control company and we provide pest treatment services in Greater Charlotte Metropolitan Area, NC, i.e. Matthews, Mount Holly, Indian Trail, Monroe, Waxhaw, Concord, Harrisburg, Huntersville, Fort Mill (SC), Indian Land (SC), Tega Cay (SC), Pineville, Mineral Springs, Mint Hill, Stallings, Dilworth, Ballantyne, Cornelius, Davidson in North Carolina.