How to Control Moisture at Home
Protect Your Home's Foundation
It doesn't take long for moisture in your crawl space to do considerable damage to your home or the foundation. If you're experiencing water buildup on or near your foundation, it's important to take care of it as soon as possible.
Crown Pest Control offers moisture control services in the Matthews, NC area, including Charlotte. We'll visit your property to assess the problem you're having and make recommendations about how to solve it.
Call 704-843-7465 today to schedule crawl space moisture control in Matthews, North Carolina, and beyond.
5 Signs you Need Moisture Control
Excess moisture can come from improperly draining gutters, ground that slopes toward the structure, holes in your foundation or ductwork or plumbing leaks. The end result is damage in the form of construction damage, health issues related to mold, mildew, or fungus, and warping of floors.
There are various signs that moisture is a problem in your home, including:
Mildew and musty odors
Peeling paint or wallpaper
Sticking doors and windows
Sagging or warped floors
Wood rot or foundation damage
Crawl space moisture won't go away on its own. Time for crawl space and basement moisture control. Contact Crown Pest Control today to learn how we can provide moisture control in your area.
The Stack Effect
What is the stack effect?
The stack effect is a phenomenon in which warm air rises and cool air falls due to differences in the density of the two. This causes an uneven distribution of temperature and air movement throughout the home, leading to drafty and uncomfortable conditions. The stack effect can also lead to higher energy costs as it requires more energy to heat or cool these areas. Luckily, sealing off your crawl space by having it encapsulated can help reduce or even eliminate the stack effect in a home by providing a thick, reinforced barrier that prevents air from entering or escaping through cracks and openings. This improves indoor comfort while helping to save on energy costs.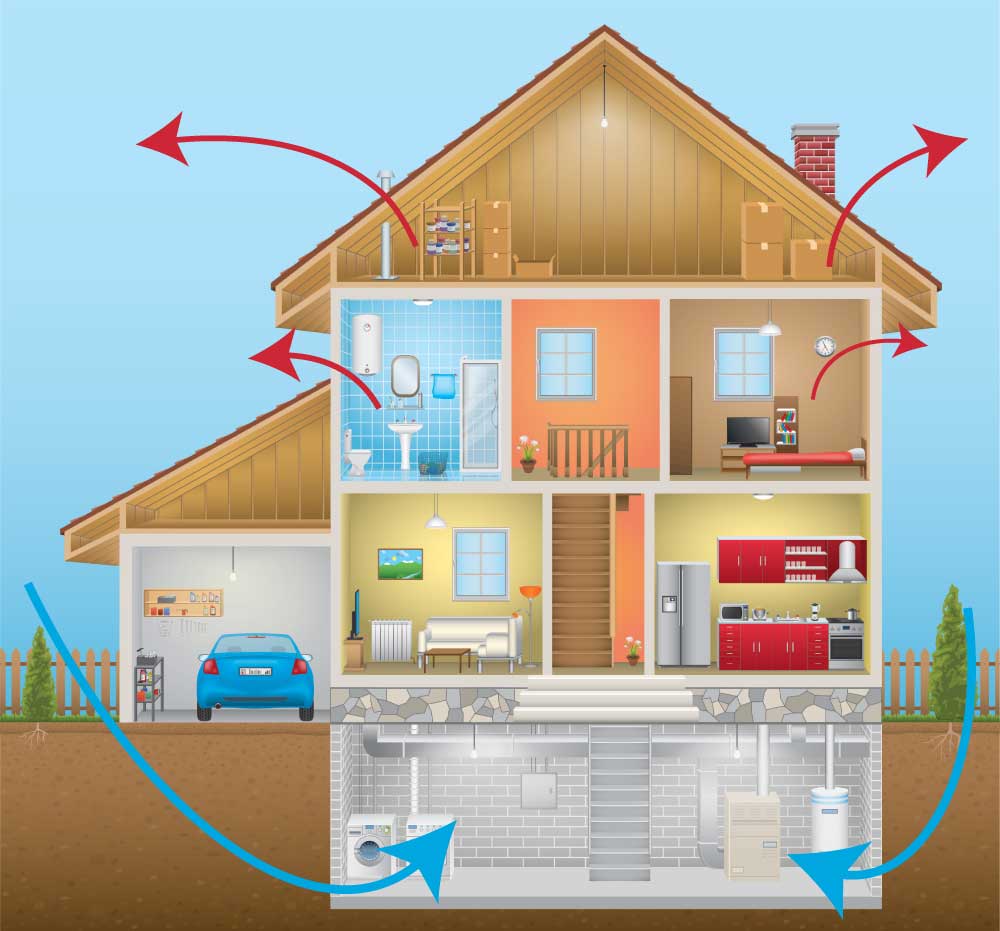 Poor Air Quality in the Home
The stack effect can have a detrimental impact on the air quality you and your family breathe in your home. If you have a crawl space Up to 50-60 percent of the air you breathe comes from your there. Air infiltration caused by the stack effect can draw damp and smelly odors and pollutants such as mold and other allergens into the home from your crawl space, leading to poor indoor air quality and greater health risks for occupants.
Additionally, the stack effect also affects humidity levels in the home. Air infiltration brings with it additional moisture which, when combined with heat, creates more humid conditions. High humidity increases the risk of mold growth and allergies, making it even more important to take steps towards reducing or eliminating air leaks. Encapsulation is one such solution that can help with foundation moisture control.
The Solution to the Stack Effect
Encapsulation helps reduce the risk of the stack effect in a home. Encapsulation is one moisture control system. The process seals off any openings or cracks that could lead to air infiltration, which is the major cause of stack effect drafts in a home. This not only reduces energy consumption but also protects occupants from uncomfortable drafts.
Also, encapsulation improves indoor air quality by keeping harmful pollutants out and promoting healthy ventilation within the home. The process also aids in reducing humidity levels and regulating temperatures, making it an ideal solution for homes looking to improve their air quality and energy efficiency.
Services Area
Crown Pest Control is a reputable pest control company and we provide pest treatment services in Greater Charlotte Metropolitan Area, NC, i.e. Matthews, Mount Holly, Indian Trail, Monroe, Waxhaw, Concord, Harrisburg, Huntersville, Fort Mill (SC), Indian Land (SC), Tega Cay (SC), Pineville, Mineral Springs, Mint Hill, Stallings, Dilworth, Ballantyne, Cornelius, Davidson in North Carolina.