How to Control Moisture at Home
Protect Your Home's Foundation
It doesn't take long for moisture to do considerable damage to your home or the foundation. If you're experiencing water buildup on or near your foundation, it's important to take care of it as soon as possible.
Crown Pest Control offers moisture control services in the Matthews, NC area, including Charlotte. We'll visit your property to assess the problem you're having and make recommendations about how to solve it.
Call 704-843-7465 today to schedule crawl space moisture control in Matthews, North Carolina and beyond.
5 Signs you Need Moisture Control
Excess moisture can come from improperly draining gutters, ground that slopes toward the structure, holes in your foundation or duct work or from plumbing leaks. The end result is damage in the form of construction damage, health issues related to mold, mildew or fungus and warping of floors.
There are various signs that moisture is a problem in your home, including:
Mildew and musty odors
Peeling paint or wallpaper
Sticking doors and windows
Sagging or warped floors
Wood rot or foundation damage
Crawl space moisture won't go away on its own.  Contact Crown Pest Control today to learn how we can provide moisture control your area.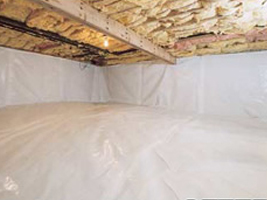 Services Area
Crown Pest Control is a reputable pest control company and we provide pest treatment services in Greater Charlotte Metropolitan Area, NC, i.e. Matthews, Mount Holly, Indian Trail, Monroe, Waxhaw, Concord, Harrisburg, Huntersville, Fort Mill (SC), Indian Land (SC), Tega Cay (SC), Pineville (SC), Mineral Springs, Mint Hill, Stallings, Dilworth, Ballantyne, Cornelius, Davidson in North Carolina.